You know you've fallen behind schedule when your last home page update talks about snow, and it's May. I think when you've got a toddler, time speeds up (kind of like toddlers). So I'll do my best to catch up now and fill you in on everything that's going on.
I'm still working with web and book designer Sue Trowbridge to get Gloves Off (#3 in The Debs series) in shape to release. We've gone through the worst so far with scanning the page proofs from Random House, cleaning those up (scanning introduces so many errors—eek!), and moving forward. I'll keep you posted on a release date when we get nearer the finish line.
I'm awaiting page proofs from HarperCollins for Say Yes to the Death, the sixth Debutante Dropout Mystery that'll be out on September 29. After that, I can focus on writing a fourth River Road Mystery featuring senior sleuth Helen Evans. Yes, I know I said I wasn't working this year; but, no matter how fast I run in the other direction, work always seems to chase me and bite me on the butt. I am keeping my load to a bare minimum as Emily keeps me very busy all on her own. So I am mostly saying no a lot.
But with Say Yes to the Death out in late September and Very Bad Things coming out in paperback from Random House in October, I won't be able to resist getting out a bit to talk about books. Any events that I schedule will be posted on my Events page and, of course, I'll holler about them here.
As for the River Road Mysteries and Helen, they've been at a special price of 99 cents for a week or so now. I think that sale lasts until May 4. So if you haven't read these, please, hop on over to my Books page for links! Mad as Helen jumped into the top ten on Nook and the top 50 on Kindle recently (and was the #1 Cozy Mystery on Kindle for, oh, about two hours), so that's pretty cool. I just wish my grandma Helen was around to see how readers are enjoying her namesake.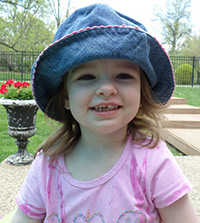 I hope everyone has put winter behind them and is enjoying a warm spring! We've already had a nest of house finches in a hanging plant (five babies!), and now we have a robin with three eggs atop our porch light. It's like a bird sanctuary around here! For more up-to-the-minute chatter, you can like Susan McBride Books and/or friend me on my personal page at Facebook (where you'll find lots of pics of Miss Emily!).